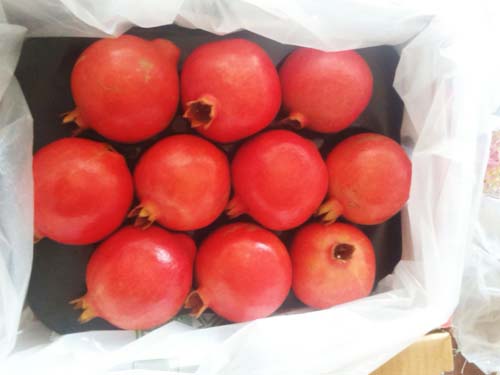 Fresh Pomegranate from Aarohi Agro International (AAI)

Bhagwa is a premium Pomegranate variety from India. The Deep Red arils & the pleasing Red but rugged skin enhances the appearance whilst promoting shelf life of the fruit.

Bhagwa is widely known for its soft seed, Dark red color and extremely delicious.

Packaging: Net weight of box 3.00kg, 3.5kg.

Details: Minimum Weight 180gm, maximum weight 400gm

Color of arils: Dark Cherry red.

Taste: Sweet

Fruit count / carton (3.50 kg net wt.)
9 Numbers packed per carton: 350-400gms
12 Numbers packed per carton: 275-325gms
15 Numbers packed per carton: 225-275gms

Load ability:     4400 cartons per container
                        20 pallets with 220 cartons per pallet


Availability: January | February | March | April | July | August | September | October | Nov | Dec

READ MORE